Is the Lulla doll safe?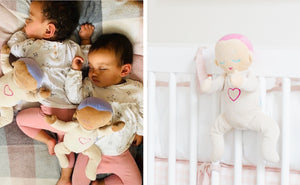 The Lulla doll is safe to use for babies from birth. For children under 12 months, Lulla doll can be securely attached to the outside of the sleeping area. Older children can hold the Lulla doll close to feel calm and comforted.
Being close to Lulla feels like cuddling with a sleeping little friend, as the Lulla doll is designed to imitate lying in the arms of a parent at rest. Therefore the Lulla doll has one sound — the natural breathing and heartbeat of a real mother. Her name is Gudrun, she is an Icelandic mother of four and a Kundalini Yoga teacher.


The benefits of Lulla doll
The benefits of the doll can be experienced when the sound is turned on, even when placed out of reach.
The design of the doll is based on multiple scientific research on the positive effects of real-life breathing and heartbeat sounds. Research tell us that when babies hear the natural sounds of heartbeat and breathing they tune into the rhythm that they hear, making their heartbeat and breathing more stable, which in turn helps them to feel comforted and sleep better and longer.
Lulla dolls soothing sounds play for 12 hours, so that Lulla can sleep with your baby through the whole night. The sound has three volume variations, the highest at 65 dB, making it safe for prolonged use for babies sensitive hearing.
The doll is machine washable at warm temperatures, making it safer for babies with underdeveloped immune and respiratory systems. Keep in mind that repeated washing on high heat may affect the dolls appearance. 
For children under 12 months
The Lulla doll should always be placed outside of the crib, or sleeping area, for sleeping babies under 12 months as recommended in the AAP guidelines.
Lulla doll can be securely attached to the outside of a crib or bed with attachment straps hidden inside a pocket on it's back. The straps can also be used to fasten the doll to a stroller or car seat for comfort on the go.
For older children
Older children are often faced with sleep related challenges and need help with calming down and self soothing, sleeping in their own room or their own bed, switching to a bigger bed, sleeping outside of the home at daycare or overnight visits. In these cases the Lulla Doll can help to make them feel  safe and comforted. 
We have had many reports from parents who have used it with good success with older children all the way up to school age. We even heard about a few parents that like to use the sound to help them sleep and we had reports of the doll helping dads to stop snoring! Elderly people with Alzheimer's have also used the doll to reduce anxiety and give comfort. 
Trusted by doctors and nurses
The Lulla doll is currently used in hospitals in the US, Australia and Iceland. The doll was designed by an Icelandic mother who studied psychology, with the help of doctors, nurses and midwives. 
In the beginning the doll was designed especially to help preemies and children dealing with illness or disabilities that often have to spend extended time in isolation or separation from their parents. These children are in an even greater need for comfort and stability and often deal with sleep related issues. 
Trusted and loved by parents
Lulla doll has received multiple awards for both innovation and design. This year it has received the prestigious "Loved by Parents Awards" where it was chosen by parents as Best Sleep Aid and Best Innovative Gift. 
Our customer satisfaction survey on the first 5,000 Lulla doll users say that  90% of parents would recommend the doll to others.
Loved by children - Elle's story
Lulla is my daughters favourite doll. She rushes home to see her in her bed (I reserve her for sleeping only). I owe a lot of sleep to your wonderful doll. My daughter just turned 3 and wanted nothing else but her Lully (as we call her) on her Birthday cake.
It's her favourite. I don't think you realize how much she loves her doll. I have 3 original Lulla dolls (Baby Lully). Then daycare Lulla (called Puffy Lulla).
Then a spare in case of emergency, break glass Lulla 😄
Elle has used Lulla doll since she was born. I felt it was the only thing safe to be in the crib as a newborn, as we were able to attach Lulla out of reach.
It was honestly a huge selling feature to me. That Lulla was sleep safe for new babies. Because in Canada all the doctors tell you to have nothing in the cribs with them for sleep safety. But Lulla is sleep safe 👏🏻
I am a respiratory therapist so breathing is huge for me. I was also very very high risk at having a micro prem baby so I started researching things to help and Lulla came up 💙 I got her right away.
Now Elle and Lully are inseparable at sleep time. Honestly I don't know what would happen if she wasn't there at sleep time. I honestly believe it's why Elle is such a good sleeper.
I love your product.
- Beckie Smith