Lulla doll at the LA Baby Show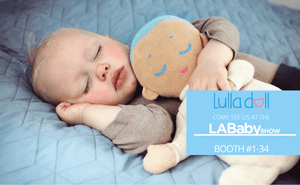 We at RoRo will be at the 2017 LA Baby Show, on November 4 and 5, at the Magic Box at the REEF, in downtown Los Angeles with our beloved Lulla doll in booth #1-34. It is a family-friendly mega-event featuring everything to do with maternity, baby, and toddler – from top products to trusted parenting experts – the LA Baby Show will be welcoming thousands of expectant and new parents from Los Angeles County, and the surrounding counties, and beyond! We are very excited to be a part of this. 
You want to come see us? You can order direct through this link, and enjoy 25% off your ticket with discount code BabyShowV.
We did a little interview for the LA Baby Show that you can read here: 
For someone unfamiliar with Roro, how would you describe the company's mission and core offerings?
RoRo is dedicated to helping babies and their caregivers feel better.
Tell us about the company's background. When did it start and how has it evolved since then?
The company name RoRo originates from the Icelandic word "ró" which means calmness and comfort. RoRo was founded in 2011 around a single idea: to make a product for babies that imitated closeness when their parents needed to be away. Indeed, the idea of the Lulla doll was born when our friend had her baby girl prematurely and had to leave her alone in the hospital every night for two weeks.
What are the most popular and/or newest products from RoRo?
Lulla doll is the first product of the Icelandic company RoRo. Lulla doll is a truly unique sleep companion for preemies, babies and toddlers. Lulla doll aims to promote a more stable heartbeat and breathing that can result in better quality sleep, longer sleeping periods, less stress levels and overall wellbeing. For some, the doll also works to help babies calm down and to fall asleep.
What sets the Lulla doll apart from other baby toys ?
Due to its comforting abilities, the Lulla doll has been praised by parents around the globe as it's hailed a lifesaver and priceless, with one parent commenting, "The Lulla doll has made a huge change in our lives. We have all had a better night's sleep and wake up feeling rested and happy". The Lulla doll has also won numerous awards and just recently was voted as the Best Baby Comforter in the Loved by Parents awards. Thoughtfully created by an Icelandic mother, with the guidance of health professionals and based on a number of scientific research studies, the Lulla doll is truly one of a kind. Using naturally calming recordings of heartbeat and soothing yoga breathing sounds from a mother at rest, the Lulla doll ingeniously imitates closeness, a vitally important feeling that has been scientifically proven to improve sleep, stabilize heartbeat, reduce stress and improve well-being.
Unlike many other comforters available that use mechanical white noise, music or sonar sounds playing in short stints with the aim of helping children fall asleep. The Lulla doll aims to help children stay asleep with unique real life sounds that run for up to 8 hours. The Lulla doll is purposely created using neutral colors, with a super soft cotton outer layer, the Lulla doll is not only machine washable and gentle on skin, it will also absorb scent from caregivers, giving children an added feeling of comfort and security.
What can parents expect from RoRo at the LA Baby Show?
The Lulla doll has been wowing parents around the world, having sold out globally last year, which led to a frenzy on eBay where it sold for more than six times its retail price. Lulla doll has been featured in various media such as the Today Show, US weekly, Popsugar, Babble, Good Housekeeping & Country living. Parents at the LA Baby Show will be able to meet Lulla up close and purchase on a special offer for the show. The team at RoRo is visiting all the way from Iceland is looking forward to present Lulla and also new product lines coming out in the next year.