Shortlisted for the Best Baby & Toddler Gear Award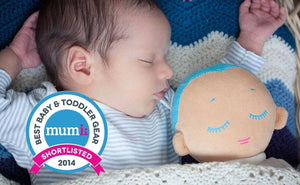 The Best baby and Toddler gear awards allows companies from across the nursery industry to enter and have their products assessed by a expert team along with a team of parents carefully selected for the task at hand.
Shortlisted products were announced the 2nd of july where the Lulla doll was shortlisted for the Best Baby & Toddler Gear Awards by a expert team in the nursery industry. After shortlisting samples are sent to carefully selected parents for rigourous home testing and the final awards are announced 15th of October.
Eyrun the founder of RoRo and inventor of the Lulla doll added: "We are very honored to have been shortlisted for this award and receive recognisition for our little sleeping companion. We truly believe in this product and we are very excited to also be taking part of Bubble London in July where we will be displaying the Lulla doll."
The awards are running for a second year now and have been created by the people behind the hugely successful online magazine Pushchair Trader and Nursery Trader (known as Mumii now). These awards will no doubt become a recognised symbol of product excellence that parents can trust. The awards aim to highlight the true heroes within the nursery market, the good quality, great value products that work.
Speaking about the inaugaral awards in 2013, Jo Studholme, co-founder of the awards said: "We understand parents, especially first time parents look for advice and reviews before making their buying decisions and we are committed to ensuring the information they get from our sites is honest. As well as using our own expert knowledge we recruite a team of over 100 parents to undertake thorough testing."
Take a look at all the shortlisted products in the sleep aid category here!