2018 Top Choice of the Year Award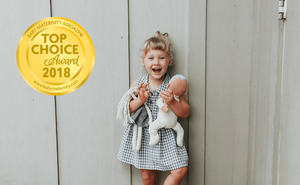 We are so proud that Lulla has received 2 new awards!
This means we now have received 3 awards this year, in addition to the many previous awards Lulla doll has received.
2018 Top Choice of the Year Award

Baby Maternity Magazine Awards has voted Lulla doll the Top choice of the year in the 

Baby

 Dolls category.
As a surprise, Lulla was also entered by the Baby Maternity Magazine Coordinators into the Creative Child 
Magazine
 

Awards

Program and won the following:


2018 Preferred Choice Award
This award was given under the Baby Toys category.
About Baby Maternity Magazine's Awards
Baby Maternity Magazine's Awards Program is unique in that all products submitted are reviewed by expectant mothers, new moms and baby caregivers. Products are not reviewed by any one person. They are reviewed by many people - the very people who would purchase them.

Based on the scores and comments products are then determined to be a finalist for the Top Choice of the Year award. Only one product per category can win a Top Choice of the Year, Product of the Year, or Top Travel Product of the Year. The remaining finalists may receive a prestigious Preferred Choice award or the Seal of Excellence based on their ability to exceed expectations for nurturing pregnant women, moms and educators evaluating the products.

Photos from senaenelson and BabyMaternity.com