50 dolls given to new babies in Canada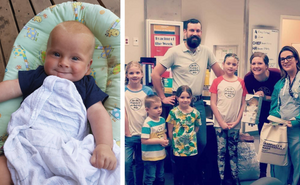 RoRo has participated in a donation program 2 years in a row, honoring little Willem Kees, who passed away over 2 years ago. 
Since Willem passed away his family has learned the importance of care in their community and blessing others. They've worked with brands they trust, including Lulla doll, and given their local hospital bags full of products for new parents.
Newborn babies receive a Lulla doll donation
In 2019 we participated on Willem Day, on January 10th, the day that Willem Kees was born. We donated 25 dolls, which were given to the labor and delivery ward at Lois Hole Hospital in Edmonton, Canada. Some of these children end up in the NICU, where we believe it's even more important for them to use the Lulla doll, due to the fact that some of them are not able to be held in the arms of a caregiver. It has been proven that closeness can improve stability, well-being and sleep and therefore Lulla doll imitates the closeness of a caregiver, with real life heartbeat and breathing sounds.
The companies donating items received a beautiful message from Carolyn, after the donation in 2019:
First of all, thank you to everyone who sponsored our Willem Day this passed Jan 10. It was a beautiful morning and went better than expected. I had a ton of nerves and emotions throughout the whole week. We arrived at the Lois Hole Hospital here in Edmonton with all our big beautiful bags. Then I presented the bags to the nurses and showed them each item and why I believe they are the best and they were so impressed and emotional.

Later in the evening I received a touching email from a woman who we had delivered a bag to last year and she told me how much the bag and our story had touched her family.

Thank you again for helping my family on our journey to healing and helping us honoring Willem Kees.
After giving the dolls Carolyn told us specifically:
I just wanted to say I was so honored having your dolls part of our bags. Everyone was so shocked and impressed when I showed them. So thank you!
The Fearfully & Wonderfully made Project
Carolyn has now started a program in her community, "The Fearfully & Wonderfully made Project" and we decided to participate by donating 25 dolls again, for Willem Day 2020.
On January 10th Willem's family went to the Lois Hole Hospital and delivered 25 bags for new moms, full of beautiful and very useful items for new babies and their caregivers. Everyone commented on how amazing the Lulla dolls were and we are so happy to be a part of this wonderful project.
The family told us the day was beautiful while at the same time difficult, but their children were a big help, which warms our hearts to hear.
Thank you, The Fearfully & Wonderfully made Project, for allowing us to be a part of this important day <3
What is the Lulla doll?
The Lulla doll is a soother and sleep companion for preemies, babies, toddlers and beyond. Lulla plays for 12 hours to provide comfort all night long. Lulla is machine washable and is safe from birth.
The Lulla doll has been used by thousands of families for more than four years and has received great feedback from all over the world.

Lulla doll comes in three different color variations, which go by the names: Lulla Sky, Lulla Lilac and Lulla Coral.

What makes the Lulla doll unique?
Lulla imitates closeness with its soft feel, humanlike features and soothing sounds of real-life breathing and heartbeat. Lulla's unique Icelandic design is based on scientific research on the positive effects of closeness, especially the sounds of heartbeat and breathing. These are:
Longer periods of uninterrupted sleep

More stable heartbeat and breathing rhythm

Increased wellbeing and lowered stress
Lulla doll helps children with:
Falling asleep

Staying asleep

Self soothing

Longer naps

Comfort on the go

Transition to their own room 

Switching to a bigger bed

Feeling more safe and comforted
… and so much more.