Crowdfunding Anniversary Celebration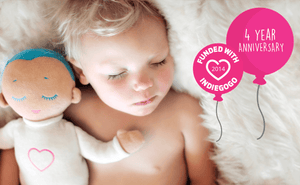 We are celebrating!
Lulla doll was once just a dream, an idea, years in development and testing. Then, four years ago on the 3rd of November this concept was put to the ultimate test. Would people want to help bring this idea to life with us. A new type of sleep companion that aimed to help babies sleep longer, feel better and safer.

It has been 4 years since we started our crowdfunding campaign on Indiegogo, that was ony the beginning for all that has happened since. Now there are children all over the world with Lulla as their trusted companion, helping them sleep better and feel more comforted. Thank you to everyone that helped us bring life to this concept and being a part of our journey.

To celebrate this chapter we are proudly offering the Lulla doll for the original crowdfunding price. The early bird special in fact! The only difference… you do not have to wait. You can enjoy a better sleep, for a better price, now. 
Join us down memory lane
During our celebration we will be reminiscing about our crowdfunding journey and about various milestones and adventures that have taken place over the last four years. So much has happened. It has been a wild ride. Check us out on social media to follow us down memory lane. We will be sharing a lot of great memories, but also be hosting giveaways.
The original crowdfunding video
Once upon a time when Lulla doll was a mere prototype. This is the original crowdfunding video on Indiegogo. This was the beginning of the Lulla doll journey. Take look:
Lulla Doll from Rorocare on Vimeo.
What makes the Lulla doll unique?
Lulla imitates closeness with its soft feel, humanlike features and soothing sounds of real-life breathing and heartbeat. Lulla's unique design is based on scientific research on the positive effects of closeness, especially the sounds of heartbeat and breathing. These are:
Longer periods of uninterrupted sleep
More stable heartbeat and breathing rhythm
Increased wellbeing and lowered stress
Lulla doll helps children with:
• Falling asleep
• Staying asleep
• Self soothing
• Longer naps
• Comfort on the go
• Transition to their own room
• Switching to a bigger bed
• Feeling more safe and comforted

… and so much more.