Entrepreneur of the year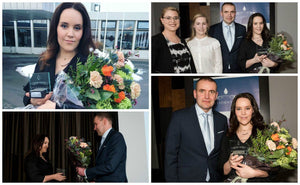 Last week, on the 8th of March, the International Women's Day, the Icelandic organisation Stjórnvísi presented their management awards for 2017.
Stjórnvísi is the biggest organisation for managers in Iceland and Stjórnvísi´s management awards are granted each year to three company managers which have been found to excel; Entrepreneur of the year, Middle manager of the year and Chief executive officer of the year. 
The criteria for being nominated are: I. Result-oriented management. II. Innovation and development and III. Business environment.
 This year 71 individuals were nominated and we take pride in announcing that the founder of RoRo and the creator of Lulla, Eyrún Eggertsdóttir, was chosen the "Entrepreneur of the year 2017".
The president of Iceland presented the award at a festive ceremony.