Johns Hopkins Giveback Fundraiser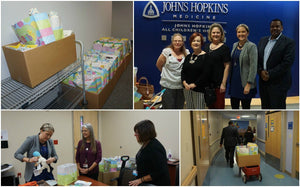 In January 2017 we were contacted by the organization eQHealth Solutions and given the opportunity to assist them with a Giveback Fundraiser for the NICU at Johns Hopkins, All Children's Hospital in St. Petersburg, Florida. We wanted to help out as we could and RoRo was more than happy to donate 50 Lulla dolls for the families in the NICU.
There are many necessities that can help the families survive the long days and nights in the hospital and as the organization had already bought two Lulla dolls for the NICU so they knew our dolls had been a great asset to these families.
Holly Spinks, Manager of Utilization Review at eQHealth Solutions told us: "As a nurse, I know the Lulla Doll is so important to these children in the NICU as they help the baby sleep at night, as it softly "breathes" next to the baby, they are amazing for preemies as they mimic a mother's womb."
The NICU holds 96 cribs so there was a great need for donations. A number of generous companies participated in donating for this cause and according to John Hopkins Hospital they were able to donate 50 gift bags, which included: Lulla doll, Wubbanum pacifier, notebook, pen, tissue, water wipes and snacks. In addition, they were able to donate $75 USD in gas gift cards and over $150 in Starbucks gift cards.
Holly Spinks says in a newsletter about the fundraiser: "The NICU Giveback Fundraiser was a HUGE success. We really appreciate everyone pitching in on the fundraiser whether you personally donated cash, gift items, or helped in the efforts to get the vendors to donate. You really did a wonderful thing.
If you could have seen the expression on the staff's face at John Hopkins All Children's Hospital you would have seen that they were overjoyed by our generosity. Because of your generosity, and the support of all of the donors, we made a difference with the babies and their families.
One of the biggest donations we received was from the Lulla Doll Company as they donated 50 Lulla Dolls to fundraiser to help with the NICU babies.
This is a true testament of what we all can do when we pull together as a community and "giveback" to those in need."
The donors also received beautiful words from Donna, at the Johns Hopkins All Children's Hospital: "We wanted to thank you and your entire team who participated in the lovely gift bags provided to our NICU babies and families. Betsy, Suzy and I did drop off a good amount of the bags today and the mom's faces just lit right up, they were thrilled. We will continue to pass out when moms are at the bedside. I just wanted you to know. Thanks again for your wonderful generosity. You are all very special."
We, at the RoRo team, are so grateful for all these beautiful words and for being able to do something that makes such a big difference for babies in need. We thank Holly Spinks for contacting us and for making this possible for us.