LA Baby Show Giveaway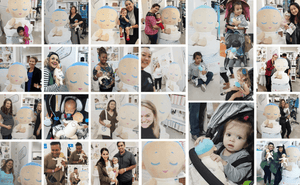 We want to start this blog by thanking everyone that we met at the LA Baby Show! So many people visited us at the booth and we once again saw how many are interested in our product and what a great invention Lulla doll is. We had such a great time answering all your questions and being able to introduce our product in LA.
We are also thrilled to tell you that after the show Lulla doll was chosen by the LA Baby Show (selected by a panel of industry experts) as one of their honourable mentions in their best in show picks this year!
Giveaway

At the LA Baby Show we hosted a fantastic giveaway. Two gift baskets full of wonderful Icelandic products to be enjoyed by the whole family were up for graps and we drew two very happy winners at the end of the show. The winnings went out to the expecting Ines Susanto & the mother of two Roxanne Morris. We collaborated with the Blue Lagoon, iglo+indi, Tulipop, Villimey, Amikat and OmNom.
Here you can read more about the companies that participated and the products they gave:
Villimey started out as a hobby at the kitchen table over twenty years ago. Today it is a thriving cottage industry, its lovingly formulated salves largely derived from traditional Icelandic remedies, passed on by word of mouth from generation to generation over hundreds of years.
All the Villimey products contain specially selected Icelandic herbs that have been hand picked in the pure, untainted environment of the West Fjords. Villimey products contain no added preservatives, fragrance or colour. The natural preservative properties are derived from the herbs.
Villimey gave a Charm Set for children and a Belly Charm for the mom, total valued at 161 USD. The Baby Charm is a particularly mild and comforting massage oil that nurtures sensitive skin and the Baby Bottom Charm is known to be effective for minor burns, skin abrasions and eruptions. The Belly Charm is known to be effective for the prevention of stretch marks during pregnancy.
iglo+indi is an Icelandic childrenswear brand founded in 2008 by fashion designer Helga Ólafsdóttir. With strong Nordic roots, iglo+indi is all about crisp colors, unique prints and playfulness.  "I love designing kids wear. Every child I meet is an inspiration. I admire their honesty, purity, humor and their natural joy of life." says Helga about her inspiration. The iglo+indi AW17 main collection is entirely organic and made with certified organic cotton.

iglo+indi gave a beautiful PUFFIN PEARL GIFTSET valued at 92 USD. Our native Iceland is the breeding home to over half of the world's Atlantic puffins, with a total population of between 8 to 10 million birds each year. Approximately 60% of the world's Atlantic Puffins breed in Iceland.
This giftset is GOTS certified which requires it to contain at least 70-95% organic fibers. GOTS is the strictest certification for organic material on the market today and include rigid controls of, among other things, chemical use, salaries and working conditions for everyone involved in the entire manufacturing process, from raw material to the final product. These products are designed in Iceland and made in portugal. 

Tulipop is an Icelandic character based lifestyle brand founded in 2010 by illustrator Signy Kolbeinsdottir and marketing mind Helga Arnadottir.
The magical world of Tulipop is inhabited by quirky and playful characters who appeal to all those who are young at heart. The Tulipoppers are all quite flawed but still lovable – just like us humans.  In Tulipop traditional gender stereotypes are challenged, and mutual respect for nature and each other is given high priority.
The world comes alive in a variety of high quality products, ranging from collectible vinyl figurines and plush, to lamps, stationary and tableware.
Tulipop gave the winners a stylish embossed cutlery set valued at over 37 USD. A three piece set containing a spoon, fork and knife, perfect for kids up to 10 years old. The set comes in a beautifully illustrated box.


Amikat loves everything magical, colourful, adventurous and fun!
The first collection came to life after peeking into the world of two little boys who love jungle animals and woodland creatures.
They each picked their three favorite animals and their mom, and Amikat's illustrator and designer Íris Halldórs, had them dressed up in watercolours and took the animals to the medieval Venetian Carnival.

Amikat is located near Reykjavik, Iceland, in the beautiful old town of Hafnarfjörður.
Their prints will always aim to lighten up a mood and add a little spark into the world!
Amikat gave an artwork valued at 50 USD. This dreamcatcher artwork makes sure that all the good dreams go through to its owner!


Omnom is a small batch, artisan chocolate maker based in Reykjavík, Iceland. It was founded by Kjartan Gíslason and Óskar Þórðarson in 2013. As a chef, Kjartan was already familiar with dark chocolate from a single origin, so he started experimenting with flavours and textures that could be achieved in small scale batches. He teamed up with his childhood friend Óskar and they started bringing the finest cacao beans from around the world to Iceland.
Omnom started as an experiment, a challenge, to see if they could truly understand chocolate and how to make it. Very early on in their experiments, they received positive feedback from their tastings of bean to bar chocolate. In little to no time, they set up a small production lab inside a converted petrol station in Reykjavík.
Omnom's mission is to make the best chocolate possible using the highest quality ingredients.
Omnom gave a selection of their favourite products valued at 64 USD. The package includes: Chocolate Covered Malt Balls with Lakkrís + Sea Salt, Hazelnut chocolate, Caramel + Milk chocolate, Sea Salted Almonds + Milk chocolate and Lakkrís + Sea Salt.
The beneficial powers of geothermal seawater were first discovered in the early 1980s in Iceland and Blue Lagoon Limited was founded in 1992. The company was dedicated to the research and development of the water's primary elements. In 1993 Blue Lagoon's first 5 products were introduced. Initially, the line consisted of products for treatment purposes as the lagoon had become famous for its healing effects on the skin. Today, Blue Lagoon skin care encompasses a dynamic spectrum of products that cleanse, boost, nourish, and heal.
Harvested by way of a zero waste process, Blue Lagoon skin care adheres to the highest mandates of eco-friendly sustainability. With patented formulas and elegant packaging, Blue Lagoon skin care enables you to experience the wonders of the Icelandic Blue Lagoon anywhere. Alls products are Paraben-free, cruelty-free, microbead-free, eco-friendly and vegan.
Blue Lagoon gave the winner a set of skin masks valued at 217 USD. 

Thank you!
We want to thank all of our fellow Icelandic companies for their great gifts, all the staff at LA Baby Show for their hard work and for everyone attending this great show! We hope to see you all in the future, hopefully with Lulla doll in hand :)