Lulla Doll at Kind & Jugend in Germany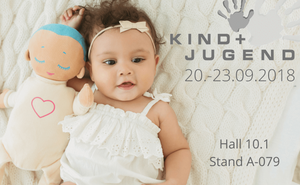 RoRo will be joining the trade fair Kind & Jugend later this month, amongst other 1200 exhibitors from 50 countries. At the fair attendees will be able to see what the new trends are in the baby product market and what the future is bringing into the children's room.

3 of our team members in Iceland will be attending the show, Solveig and Sunna from Marketing and Arni, our Sales Manager outside USA. We are thrilled to meet other companies at Kind & Jugend and introduce what the future looks like for RoRo! 
While RoRo's headquarters is in Iceland, other parts of the RoRo's team can be found all over the world, with distributors and retailers in more than 15 countries. "We are so pleased to see how fast our team is growing and excited to grow even more! We look forward to meeting new distributors and stockists at the Kind & Jugend show, where part of our Icelandic team will represent the company and introduce some new and exciting things coming up" - Arni.
Are you representing a distributor or retailer and are interested in knowing  knowing more about our products? Are you attending Kind+Jugend?
You can book a meeting with us by clicking here.
Have you never heard of RoRo and Lulla doll before? 
Lulla doll is a creation of the Icelandic innovation company RoRo and has been sold in over 80 countries around the world. It's first production, funded through the crowdfunding platform Indiegogo, sold out globally within weeks of its release as news spread like wildfire of success stories of the Lulla doll.
Lulla's design is based on multiple scientific research that show the positive effects of closeness and kangaroo care to the development and well-being of young children and the effects that smell, sight and touch have.
The Lulla doll imitates closeness to a caregiver at rest by playing soothing sounds of a real heartbeat and breathing for 8 hours, giving the feeling that someone is sleeping nearby when their caregiver can't. The sound is set on a safe volume of 65dB and has a Velcro strap for safe attachment. The doll is machine washable at warm temperatures, making it safer for small babies with underdeveloped immune and respiratory systems. The fabric of the doll can absorb scent from caregivers if they keep it close to their skin before giving it to their child for added feeling of comfort and security. Lulla's soft feel, facial features and colours are also designed with purpose and care.
Lulla has been awarded multiple times, both for its design and functionality. In 2018 only Lulla doll has received 5 awards and been shortlisted for an additional design award. The one of a kind sleep companion has been awarded as:
The Best Sleep Solution by LBP Awards

Best Innovative Gift by LBP Awards

Top Choice in Baby Dolls category by Baby Maternity Magazine

Preferred Choice in Baby Toys category by Creative Child Magazine

Best Buddy in Baby Essentials category by NAPPA