Mother's Day Gift Guide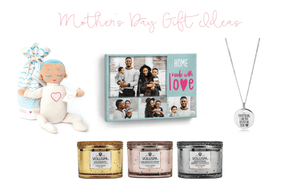 We understand it can be hard sometimes finding the right gift for the right occasion. Mother's Day is coming up in less than 2 weeks (May 13) and we want to make it easier for you to become inspired. Whether it's for your own mother, your partner or any other important mother in your life we have a few ideas that could really hit the spot. A Mother's Day gift doesn't have to cost much, as long as it's thoughtful. It doesn't either have to be hard to find or take a whole trip to arrange. Our list therefore includes gifts that can be easily ordered online, DIY (do it yourself) gifts your child can even make and suggestions of things you can do for your partner to relieve some possible home related stress.
Flowers
Flowers are classic and suit anyone at any age. You can probably buy Mother's Day bouquets at any local flower store. If you want to buy something special (or you'd rather like to order online) Good Housekeeping has shared some great ideas for beautiful Mother's Day bouquets and where to buy them.
Cooking
Does your wife cook most of the time (or maybe always)? Or do you own it to your own mother to cook her a meal for once (after all her hard work, including cooking, since you lived at her home)?
Why not cooking a delicious meal for your favorite moms? It doesn't have to be hard and Good Housekeeping has even made it easier for you by putting together a list of some yummy recipes for brunch and dinner!
Voluspa Candle
We simply LOVE these candles. It might be hard to chose from all the different scents but we recommend for example: 'Baltic Amber', 'Prosecco Bellini' and Saijo Persimmon. You can also see a list of their bestsellers at their website.
Something to remember
Why not buying or creating something that reminds the mother of this particular day and her motherhood in general?
Necklace
You can buy a personal necklace that embraces how thankful you are of your wife's motherhood. Here are a few necklaces the mothers at RoRo find truly beautiful and would love to have themselves (hint hint partners!).
Photo related gifts
You can create an instant photo book with your Instagram photos and Facebook moments through Blurb's website. You just log in to your social account and choose the photos you want to use. You can also choose from hardcover and softcover books, as well as from a range of quality paper options.
A new option is to create a book on the go, through your mobile device (available for iPhone and iPad).
Snapfish offers a variety of canvas print types. You can chose different themes, such as "Family" or "Baby", different colors and patterns. You can also choose adding a frame to your canvas with a few different frame options.
Mpix offers a beautiful option in printing out your special memories. The photos come in a maple wood box with a slide top and the Prints are available on E-Surface, Metallic or True Black & White paper. The box includes 4x4" prints (10 mounted or 50 unmounted) with four wooden easels for a classic display.
Mpix also offers a special Mother's Day Accordion Mini, a mini photo book. You can chose between different covers options and 2 types of paper. You drag a drop your images into the pre-made design and the book comes with a concealed magnet for soft closure. And it also takes 1-2 business day in lab + shipping!
If your family wants to spread the love to friends and family you can order personalized Mother's Day Cards in bulk from Mpix. You can choose between different designs, which some are silver foil rounded. You can also choose different paper and trim options.
Drawing/art piece from the child
What's more personal than a gift made by the child itself? Sometimes children need help to start their flow of imagination (although they are way better than we adults in this) so you could sit down with your child and guide them into the "right"direction. You might just want the child to do whatever they feel like, you might have something specific in mind you want them to do (for example pen drawing, hand print with paint or a written letter) or you might want to get some ideas online. If you chose the last option you should check out our Pinterest board which includes some great ideas for a DIY Mother's Day gift.
Sleep!
We know how it is being a parent and not resting well enough. Especially when you have small children. Why not giving your loved one the best gift she could have: Sleep! Number one would be to take of the child during the night. If the mother is still breastfeeding we recommend helping her by fetching the baby in the crib, helping her getting into a comfy position and/or getting her some water. If not breastfeeding it might be a good idea for the mother to sleep in a different room or even out of the home, especially if the child is sleeping in the parent's room.
It might be a great start to help the child sleeping better. A sleeping child means the parents should sleep better as well. Lulla doll has shown to help children both fall asleep more easily and sleep longer throughout the night. We know it can help children for at least up to 10 years old, especially if the children have special needs or hard time calming down. We've even heard about parents using the doll and dads snoring less when sleeping close to the doll!
Lulla Doll by RoRo
The mother might also need some sleep aids or at least something to help relaxing, whether it's during the day or in the evening. We definitely recommend using aroma therapy and a diffuser is a great aid for that.
This one we have at the office at RoRo and we simply LOVE it! So much that some of us have invested in one for the home as well. Buy different essential oils for different purposes. Essential oils can not only be used for improving focus, concentration and mental clarity at work, such as Frankincense and Lemon, but it's also great at home for relaxing and sleeping, such as Lavender, Ylang Ylang, Bergamot, Marjoram and Roman chamomile.
We recommend the essential oils from for example Young living
and the essential oils from Now.
Remembering and appreciating!
First and foremost the biggest gift is to actually remember Mother's Day when it shows up and to show mothers appreciation for all their hard work. This great article by Little Things lists "9 Sacrifices To Thank Your Mom For On Mother's Day", which are SO true!
So just remember to say THANK YOU! <3