OHbaby! Awards - Best New Product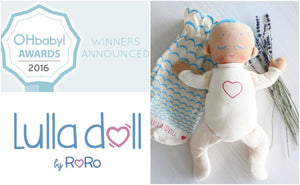 We are so thankful that the public chose Lulla doll as the Best New Product in the Special category of OHbaby! Magazine's awards 2016!
OHbaby! Magazine is an award-winning parenting and lifestyle magazine aimed at encouraging, inspiring, empowering and informing parents in a beautiful and interactive way. Every issue is filled with expert commentary, parenting encouragement, family ideas, interior styling, fashion and fun party inspirations to build great family memories.

OHbaby! launched the inaugural OHbaby! Awards in December 2010, recognizing the best products and services in the pregnancy and parenting markets as voted for by moms and dads. Earlier in 2016 the magazine asked parents to let them know what their favourite products were in each category and they then narrowed it down to the most nominated products, to create a shortlist for the public to vote on. This resulted in Lulla doll being voted as the Best New Product in 2016. You can see all the award winners here.