Lulla doll & Otis, Best Friends from Birth - Charlene's story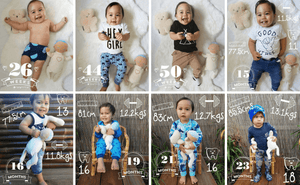 Otis & Freddie
We simply ADORE this story and we just have to share it with the whole world!
Otis and his Lulla doll are BEST friends. Otis's doll's name is Freddie (how cute?) and is present in all of his milestone photos. We just love seeing a new photo of Otis each month, with Freddie and his teddy Pancake. Growing up gets even better when you have good friends! Not to mention if you sleep well. 
Here is their story, written by Otis's mum:
The Lulla Doll's adventure first started when Otis was 6 months old. Prior to having Freddie, Otis was very unsettled at sleep time and would wake often throughout the night. I was desperate for some sleep so my mum purchased the Lulla doll in hope that I could finally get a decent amount.

Once Freddie joined us Otis became more content and even started sleeping through the night. I just love that Otis knew what was happening once he saw Freddie as he quickly associated it with sleeping.

Freddie has become a huge part of Otis' life not just at sleep time but in his monthly progress photos and even to childcare.

- Charlene
BETTER SLEEP - BASED ON SCIENCE
So, in case you have never heard of the Lulla doll we can give you the scoop. We at RoRo are deeply passionate about sleep, because good sleep is vital to our wellbeing and development. That is why we created the Lulla doll. Lulla is a sleep companion for children (from birth to school). It emulates closeness with its soft feel and soothing sounds of real-life breathing and heartbeat.
Lulla's unique design is based on the science of closeness, multiple studies on kangaroo care, the effects of heartbeat and breathing sounds, and the effects that smell, sight and touch have on babies and small children. We also relied on advice from a team of doctors, nurses, and psychologists during the development. Read all about it here. The Lulla doll has been tested and tried by hundreds of thousands of parents and caregivers all over the world. Over 90% say they would recommend the doll. Lulla can help your little one fall asleep easier, sleep longer and feel more comforted.