40 dolls donated to NICU in the name of Preemie Brothers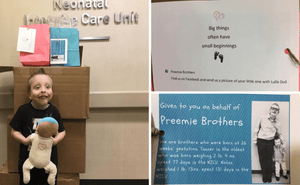 A 5 year old raises money to give Lulla dolls
Last year (2017) 20 Lulla dolls were donated to the Children's Castle in Sioux Falls in the name of Preemie Brothers, who initiated the donation. We knew they were planning on doing some fundraising in the nearest future, in order to provide even more Lulla dolls to families in the NICU. Little did we know what was going to happen next.
In December Nolan, one of Preemie Brothers, had a birthday wish for his 5 year old birthday and that was to raise money to donate more Lulla dolls to the NICU he spent 131 days in when he was born! So he started a Facebook fundraiser where he raised enough money to buy 20 dolls.
Nolan was born at 26 weeks and 2 days. He loves to volunteer and help others. We couldn't believe our ears when hearing these news at RoRo so we decided to donate 20 additional dolls to the cause. Nolan brought 40 dolls to the NICU in January this year, giving more premature babies a chance to get a Lulla doll.
Lulla doll designed for premature babies
As we've mentioned earlier the Lulla doll was originally designed for preemies by Eyrún, the founder of RoRo. The idea of the doll was born when Eyrún's friend had her baby girl prematurely and had to leave her alone in the hospital every night for two weeks. That struck a chord with Eyrún and it was then that she decided to bring the Lulla doll to life.
Thank you to everyone who donated to Nolan's birthday fundraiser! It didn't only make us happy, it also brought so much joy to this beautiful 5 year old boy.