Traveling with Baby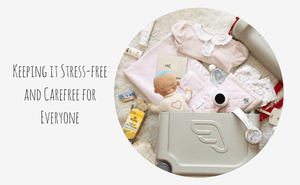 Whether by land, sea or air, traveling with an infant can be overwhelming at times.  If it's just a weekend trip to visit family or a week-long vacation that includes a connecting flight, there is a lot to keep in mind.  You need to keep routines on track, keep baby safe, pack double and triple of many things and all the while – try to enjoy yourself.  Is this really possible?  
Traveling with baby doesn't have to be a headache.  If you plan in advance and plan for the 'unexpected' you may find you can catch a bit of 'R&R' after all.  
Pack What You Need
Keep your destination in mind: is it a foreign country?  Do they have the same supplies and necessities your local pharmacy carries?  Are you staying with relatives with children of the same age?  Asking these types of questions as you get ready will help you determine just how much – or little – you will need to pack.
Bring a Little Home With You
Babies rely on the comfort and love of their mom and dad so give them lots of love and cuddles while traveling.  Provide them a bit of 'comfort' from home as well by bringing something small from the house.  Their favorite blankie and the Lulla Doll can easily be added to a diaper bag for easy access for bumpy flights or tucked into the car seat for long drives.  The softness of the Lulla Doll will bring comfort to your little one and the vibration and sounds won't disturb anyone nearby but more importantly, keep baby content. 
It's Not a Sprint
Extended travel can be challenging for anyone, especially when it involves a full day (and night!) of driving or one connecting flight after another.  When possible, plan 'breaks' in your travel to stretch your legs, get baby outside for a walk in the stroller and fresh air.  Bring a blanket that can be laid out on the floor at an airport or somewhere where you can have some fun playtime in between the chaos of getting to your next stop. 
Snack Time!
Everyone needs to 'refuel' when traveling. Keep energy levels up by packing healthy snack options for the entire family.  Including YOU and baby.  Still nursing?  Many rest stops, airports and travel centers provide family-friendly washrooms or nursing stations for a bit of privacy.  Keep a nursing cover in your diaper bag for easy and private feeding no matter you might be.
If you're traveling with baby, it often means you're on your way to somewhere fun.  The beach?  Grandma's? A family-friendly resort? Despite everything you need to keep in mind and everything you need to do to prepare, be sure to find the time to enjoy yourself and enjoy these special adventures and experiences with your little one.